«TRIANGULAR TRADE» takes its name from the system of trading between three ports or regions, the most notorious example of which was the transatlantic slave trade. Commissioned by the Arnolfini to thematically accompany John Akomfrah's 2015 film, 'Vertigo Sea' – a film that explores oceanic migration, slavery and exploitation – Cooke conceived the composition to address the significance of situating the film's UK premiere in Bristol, a city that has yet to reconcile its current consciousness with its participation in the slave-based Atlantic economy. Since that initial installation, Cooke has continued to rework, refine, and add to the material. The piece triangulates themes of slavery, migration, and climate change—from West Africa, the Americas, and England; to Liverpool, London, and Bristol; to local ambivalence toward Edward Colston, Bristol's historic benefactor, whose wealth was built, in large part, upon the transatlantic slave trade.
Each copy of «TRIANGULAR TRADE» includes an archival CDr containing a single 45-minute sound recording; eight text-based collages created by Cooke that provide context, raise further questions, and connect the broader thematic implications of the work; and a sheet providing information on the source material, instrumentation, and recording process.
"Diasporic lives are characterised by an absence of ruins. There are no monuments that even as ruins attest to your existence, of your passing through a space. This then means that the intangibles, be they sound or words, become necessary building blocks. Lives that are not legitimised in the official monument can then be given a certain kind of legitimacy."
John Akomfrah, Sound and Music interview

"How do people migrate from being human begins to cockroaches? What do you have to forget? Amnesia is a constant sea."
John Akomfrah, TateShots interview
<![if !supportLineBreakNewLine]>
<![endif]>
<![if !supportLists]>1.

<![endif]>TRIANGULAR TRADE [45:55]
<![if !supportLineBreakNewLine]>
<![endif]>
This is Suppedaneum no. 15.
.
<![if !vml]>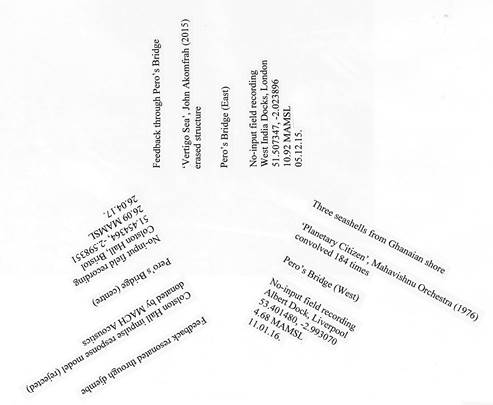 <![endif]>
Seth Cooke is a sound recordist, drummer and process performer based in Bristol, UK. His location-based work explores aberrant mapping and perturbed environments. His solo performances involve feedback and resonance. As a percussionist, he plays traps and waste disposal sink. He sometimes enjoys the flexibility of improvisation, open composition, and field recording. He used to play drums for Hunting Lodge and Defibrillators. Current projects include a duo with Dominic Lash and the Every Contact Leaves a Trace CDr label. He co-founded the Bang the Bore collective with Clive Henry in 2009.
External links: Seth Cooke (official site)/ R-U-Ready (supplemental mix tape)
<![if !vml]>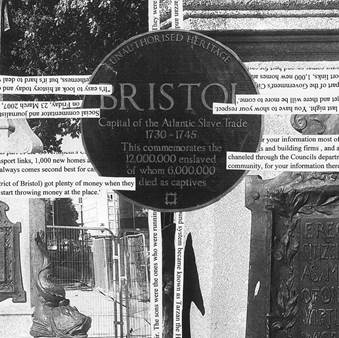 <![endif]>
       <![if !vml]>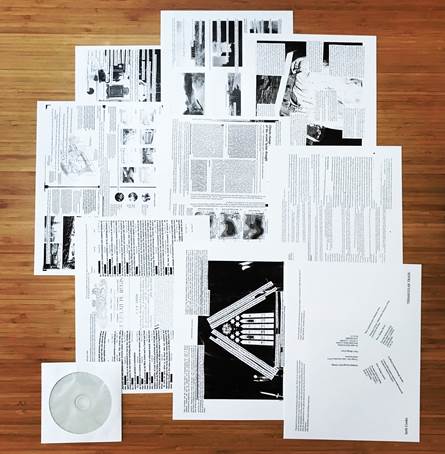 <![endif]>
                                

                   

<![if !supportMisalignedColumns]>