Luke Martin and LCollective
 «PRACTICES IN THE IMAGINARY: EACH DAY I MUST THINK OF 20, 50 PEOPLE »
Across eight weeks in the autumn and winter of 2020-2021, a group of friends—separated from one another as a result of the pandemic—performed a simple, shared activity. Using Luke Martin's elegant score as a guide, Doug Farrand, Assaf Gidron, Rachel Mangold, Teodora Stepančić, and Martin each made concise lists of those individuals—whether living or dead, real or imaginary—with whom they found themselves conversing in their heads. They jotted down names, fragments of memories, locations, and dates. Once each week, they recorded themselves reading the accumulated texts aloud or silently, arranging the lists, and writing new ones. At each new iteration, options were given for reading the lists, making a sustained sound, or remaining silent for each previously completed page. The lists were photographed, and each week's recordings were subsequently layered to create a palimpsest of voices, silences, memories, and distances. The patient unfolding of these recordings reveals surprising and often beautiful juxtapositions as networks of overlapping influences, mutual friendships, and shared solitudes are delicately traced.
This release includes a book presenting images of each of the lists, the score by Luke Martin that guided the process, and a download code to access the recordings for each of the eight weeks.
This is Suppedaneum no. 26.
        <![if !vml]>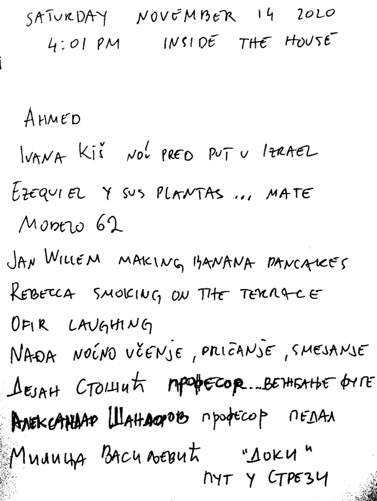 <![endif]>      <![if !vml]>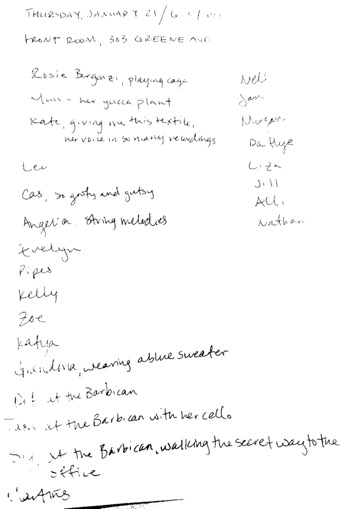 <![endif]>      <![if !vml]>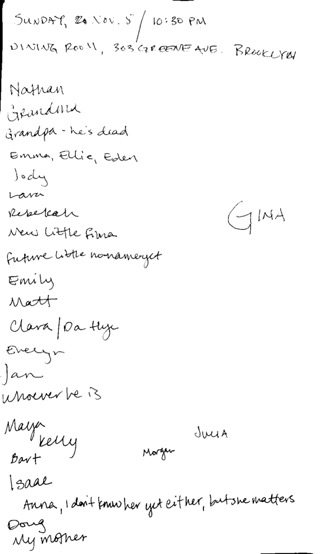 <![endif]>
What would happen if I paid attention to the multiplicity of people, memories, places, and so on, streaming through my head at any moment, underneath every word, every decision, every step? What if I did it with a group of friends (which somehow makes more sense than alone)? This was the initial question that prompted writing the piece we have here. The swarm, how to listen to the swarming. Of course, the swarming descends infinitely: multiples within multiples within multiples. How do you, then, decide what comes out of the swarm? Without losing the obvious and beautiful fact that it is undecidable, that it is inconsistent: what is? The piece is not so much about who or what is remembered, written, or said, but rather the ethics of being seized by and seizing a decision, the articulation of a time and history which is unjustifiable and not-one. In other words, the making of a mark, a sound, a silence. Did something arise in this practice—we do not know with certainty—that could only be 'named' without content, a discontinuity somehow testified to without reduction (whether in sound, silence, or speech)? Could it only happen by way of a coincidence of multiple articulations, a collective and contingent moment within the group both in witness to and sustaining that 'thing' which could not be captured, that thing somewhere wandering and winding through our sound, silence, and speech? If it doesn't obscure it, the swarming may reveal, without reason, a glimpse of this strange wound, the flickering presence of an inconsistent scar; and only as strangers—that is, as friends: those who sustain and care for their mutual strangeness, their richness—can we give it welcome.
—Luke Martin
Douglas Farrand
is a composer, musician, and educator concerned with developing practices that invite us to explore our myriad processes of listening and embody a collective investigation of place and connection. He works with the University of Orange, a community organization and free people's urbanism school in Orange NJ, as a community organizer and co-director of their Music City program.
Assaf Gidron
is a composer, musician and sound designer. Originally from Tel Aviv, Assaf lived in the UK and the Netherlands before moving to Brooklyn where he writes and performs music, works in film sound, runs the Big Family Audio Co. studio and uploads images to the @moreshapes Instagram page.
Rachel Mangold
is a collaborative and experimental double bassist living in Brooklyn, New York. With a practice rooted in inquiry and a commitment to cultural impression, she is weaving the threads of performance and participatory work into a holistic practice.
Luke Martin
is an experimental composer, performer, and writer living in Minneapolis, MN. He plays guitar and no-input mixing board, often with people in and around the Wandelweiser Group, and is part of the ensemble Ordinary Affects. Luke's work is mainly oriented toward thinking the relation between music and truth, with a special focus on theorizing silence as such. He also runs, with Aaron Foster Breilyn, the Co-Incidence Festival.
Teodora Stepančić
is a composer, pianist and curator, founder of Piano+, Shared Space and 597 concert series in Brooklyn, part of Teo Dora An Drea duo (Montreal/New York), Stepančić.Gidron duo and core member of Netherlands based ensemble Modelo62.